Find Your Next Great IT Professional
We Can Help Locate Qualified Talent to Meet Your Technology Recruiting and Staffing Needs
The job market is constantly evolving and changing, it is not uncommon for Human Resources departments to struggle to find and retain experienced Information Technology professionals who fit both company culture and perform effectively in their new role.

IT Professionals need to have technical proficiency, an in-depth understanding of business processes for the industry they are employed in, and an overall ability to excel in managing day-to-day operational needs.
IT Professionals know their skills are in high demand, and are searching for the perfect opportunity that will allow them to build a legacy and long-term career growth with the right company.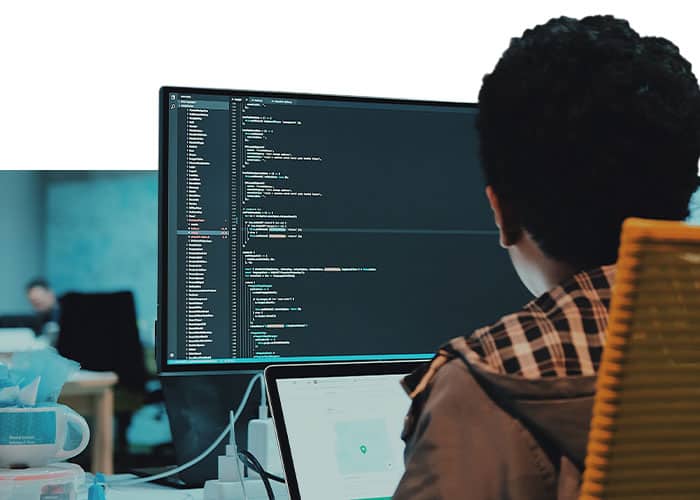 High Caliber Staffing Rooted in Traditional Recruiting Techniques
The Perceptive Difference
Many staffing agencies simply send over a range of resumes that seem to meet most of the requirements, but fail to dive deep in to what the client is truly looking for, what the opportunity entails, and how the candidate background fulfills this. This leaves internal HR teams struggling to pick the right candidate from the pool.
At Perceptive Recruiting, we take the initiative to lift the weight from your shoulders, and we won't stop until we find the perfect IT professional to match your company's needs.
Perceptive Recruiting is wholly dedicated to fulfilling high level IT staffing needs for our clients. We have a level of insight and specialization that no other recruiting agency can provide.
We focus on building the right relationships, not just fulfilling transactions. We have a level of flexibility and focus on each client that is unmatched in this industry. We're willing to do what it takes to ensure our client's success.
I had a great experience working with Perceptive Recruiting as they helped me start a new career. Communication was fantastic and they provided great information on the industry and positions available. Would highly recommend!

Perceptive Recruiting found the perfect position for my skills and interests. Working with Perceptive Recruiting through the interview process was easy and enjoyable. I was also given great advice for how to prepare for the interviews and ended up accepting the position.

Perceptive Recruiting did an excellent job of matching my skill set with the right position and company. They were very professional and great to work with!

It was a tremendous pleasure working with Jill and Alex. I highly recommend this recruiting agency. Thank me later!!

Jill is excellent to work with. She's extremely responsive and took time to listen to what I was looking for and followed up with me after each step in the interview process. If you're looking for a hardworking, attentive recruiter, go with Jill!

Jill and her team are extremely capable and professional. No detail of the candidate or job search experience is left undone. I've used Perceptive both as a candidate and a hiring manager and can confidently say you cannot go wrong using Perceptive!

Kim C.

Candidate and Hiring Manager

Perceptive Recruiting did a great job, helping me to land my current position. They were professional and a great team to work with!

The team at Perceptive are the best recruiters I've dealt with. They know the industries that they work in, they knew the client well enough to give amazing direction and helped with negotiation along the way. It is rare to find this level of professionalism in a recruiting business. Thanks to the team for all of your efforts.

Jill was wonderful to work with, always available to answer questions. The position she found for me has been wonderful - by far my favorite position I've ever had!

Jill is absolutely amazing at what she does

Perceptive Recruiting was wonderful! They reached out to me with a position that was a great fit for me, and I was excited to "throw my hat in the ring". When an interview was scheduled, they helped me to prepare which was a tremendous help. But even when I was offered (and accepted) the job, the contact didn't stop there. They reached out to see how I was liking the job and to make sure I was doing okay. I really felt like they were invested in my success. And in this difficult time when so many people are having a hard time finding/keeping work, I greatly appreciate all that Perceptive did to help me find such a great new job!

Perceptive Recruiting embodies all aspects of the PERFECT recruiting company! Their team is a front-runner in communication and they truly have a passion for people and career placement! I needed an established company whose core values stood out among the rest and was dedicated to finding me a great new career fit and Perceptive Recruiting without a doubt delivered! Thank you for everything!

Perceptive does a fantastic job at matching people with the best job/role for them, a true win/win for companies and job seekers. They are caring & thoughtful with their approach, and they follow up consistently during all steps of the process. It's incredibly valuable to have these folks in your corner. I've done business with many recruiting firms on both sides and Perceptive is simply a cut above the rest. Highly recommended.

Perceptive Recruiting was the best recruiting company I have ever worked with. The team was super responsive, open and honest when helping me make a decision, and followed up multiple times... even after I started my new job. I highly recommend!

Perceptive was a pleasure to work with in assisting me in finding my new role. They paid attention to all the details, set expectations, superb communication and follow up. Without question, I would work with them again should I need to find a new role in the future. I would give more than 5 stars if I could!

Eric M.

Attention to detail with a personal touch! Jill finds the right fit position, shares effective company profile information and provides intelligent coaching - all in a friendly, professional manner. What a treat to have Jill's guidance while navigating the job market!

Perceptive Recruiting was great! Quite simply, they went to work for me, and provided me an opportunity to succeed. Thank you again.

A recruiter from Perceptive Recruiting reached out to me about a direct hire opportunity in my area. They were very attentive and helpful throughout the entire process. Many recruiting firms that have contacted me in the past we're only concerned about filling a spot, the recruiter from Perceptive Recruiting, I felt, wanted me to grow and be placed with a company that would be a great fit.

I am thrilled with the support I received from Perceptive Recruiting! I was contacted by Perceptive based on my profile from a popular professional network. Perceptive knew the job requirements and found me due to the skills match for the requirements. It turns our I was a perfect fit for the position and after two interviews I was hired. Perceptive found me and placed me at a local company in Missouri even though Perceptive is in South Carolina. Great job finding a good fit for me!

Great company. Helped with getting my resume to the right person and I was hired the next day. Thanks so much.

They have been super responsive through out the interview process, updating me with any communications regarding next steps and what to expect. They were upfront with me in regards to the interview process and timeline and made sure I had everything I needed to excel at the interviews! Thank You for your hard work!

I had the pleasure of working with recruiters from Perceptive Recruiting. They were thoroughly professional matching job opportunities with my skills and experience. Almost instant feedback, very efficient communications, and comprehensive knowledge about the market (trends, compensation ranges, relocation options, etc.) make them one of the most professional tech recruiting companies I have worked with.

Thrilled with the help Perceptive Recruiting provided in helping me find my next career path. I had a great guide from assessing my strengths and identifying roles I was a perfect fit for.

I cannot say how good of an impression you made on me with all your efforts, from coaching me prior to the phone interview, to taking time to go over each step of the process and making sure I was prepared, and even recommending us to local activities while we were there.

Jill, you are the best! I sincerely appreciate you for going above and beyond on this!

Jill, thanks for the interview prep you gave me. It made a huge difference!
If You're Ready to Find Your Next Great Hire, Reach Out to
Perceptive Recruiting Today