Networking Opportunities for Women Interested in Technology
Upstate Women & Technology (UWT) is a strong, supportive women's networking group that promotes learning and friendship in the Upstate community. We welcome women of all ages, industries, and professions to develop their networks and learn about technology.
Guest speakers are invited each month to present on various topics of interest, including technical IT topics, new innovations within IT, general business topics, company culture and values, community development conversations, advice on career-building and inter-office interaction, and more. We also support local charitable causes like Safe Harbor and the Meyer Center for Special Children.
Our members have gone on to build long-lasting relationships and networks as a result of attending Upstate Women & Technology meetings, and we'd love to see you!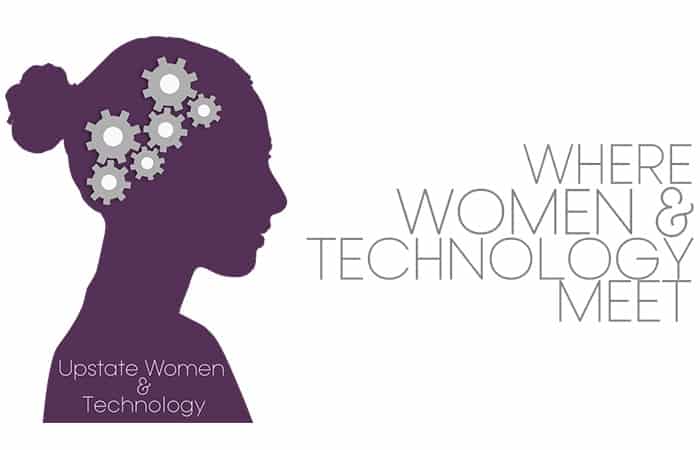 Upstate Women & Technology September 2019 Lunch & Learn
Date: Thursday, September 26th
Location: City Range on Haywood Road in Greenville
Time: Networking – 11:30 am / Lunch & Presentation – 12 noon to 1 pm
Topic: Perfect Your Communication Style | Coaching Practices for Everyone – Work & Home
Speaker: As a Leadership Development Consultant and Executive Coach, Elizabeth Kunze helps clients focus on identifying intrinsic leadership strengths and developmental opportunities to support professional growth. Elizabeth partners with clients to analyze leadership strengths and craft action plans to enhance skills needing development to further growth, advancement and rewarding careers.
Details: In "Coaching Practices for Everyone", we will explore a few quick, effective and time-tested approaches to build your personal coaching skills.  By adding a few coaching techniques to your communication tool kit, you can move toward having more effective conversations with others – your managers, your peers, your direct reports and even your family. Become the communicator people admire! This presentation is great for leaders and managers that want to increase their effective communication style.
Join Us At Our Monthly meetings!
We hold our monthly meetings the fourth Thursday of each month (except for November and December). Lunch begins at 11:30 and runs until 1pm at various venues across Greenville.
Membership in UWT is free, and admission to our Lunch & Learn meetings costs $20 with advance registration, payable via PayPal. We also accept walk-ins for $25 provided space is available.
We encourage those planning to attend to register in advance, but we also accept walk-ins as long as we have space available.
We invite you to attend a meeting and take advantage of both our educational and informative speakers and the opportunity to network with other women in technology-based careers.
Join UWT or Contact Jill Rose for More Information

Jill Rose, President of IT staffing firm Perceptive Recruiting, founded Upstate Women & Technology as a way to provide support, networking opportunities, and other benefits to Upstate women in tech careers. Jill has been recruiting IT professionals in Greenville since 1998 and believes that networking and support can make all the difference when it comes to a career in challenging technological fields.
Register to attend our latest monthly Lunch & Learn meeting using the form on this page, or contact Jill Rose directly at (864) 908-0105 with any questions.